New Trends Tenveo

Ultra HD 4K Po

E Conference

Camera

——

The Red Dot Winner
TEVO-VL12U UHD 4K Camera for Video Conferencing
Tenveo is proud to announce that VLoop series products have won the German Red Dot award. This series of products features cutting-edge technology and advanced features to take video conferencing to the next level.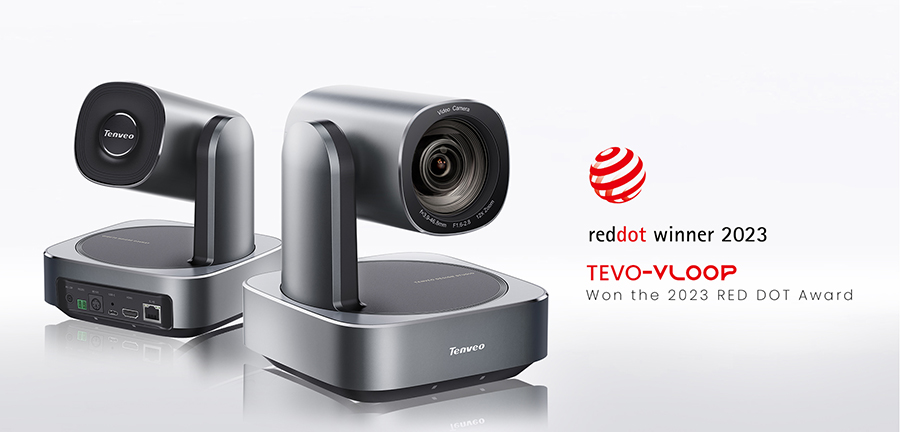 Winning the Red Dot Award is a significant achievement for any product. The German Red Dot Award is a prestigious international design competition that recognizes outstanding product design in various categories, such as communication design, product design, and design concept.
Winning the Red Dot Award means that the product has been rigorously judged based on criteria such as functionality, aesthetic appeal, and user experience by an international panel of experts. It is recognized as one of the most prestigious design awards in the world and is a testament to the product's exceptional quality, innovation, and design.
Overall, winning the Red Dot Award is a remarkable honor and we're glad to sharing the news to our customers.
Vloop 12U is the perfect solution for all your video conferencing needs.Our TEVO-VL12U boasts a 4K resolution, providing crisp, clear, and bright imaging for remote meetings, providing an even more immersive experience for remote conference attendees. With 12x optical zoom, users can easily focus on specific details during presentations or discussions. This functionality is paramount for effective communication, especially in large presentations or with remote attendees.

"Our goal is to deliver a high-quality video conferencing experience for our customers that is easy to set up and use," said our boss. "The new Vloop12U is an excellent example of how we are fulfilling that commitment. We are confident that our customers will appreciate the superior image quality, convenience, and flexibility that our camera provides."
The Conference Camera is now available for purchase from our company's website.
For more information, please visit our website or contact us directly.